The advantages of Dairy-Beef
The latest research indicates that well managed Dairy Beef supply chains have the potential to be 50-60% more energy efficient than traditional suckler herds, with findings demonstrating excellent meat quality and consistency of carcass.
The potential of the industry to produce truly sustainable meat is currently limited by the difficulty of managing many different production variables across a complex network of farms.
This is where our technology comes into its own.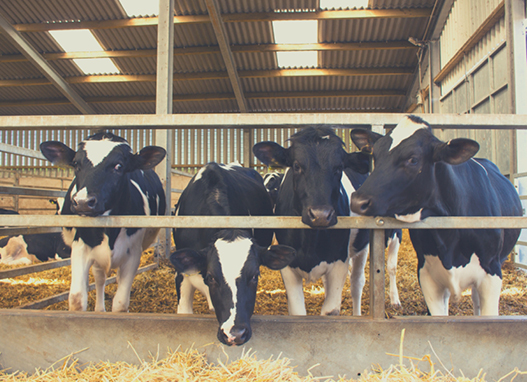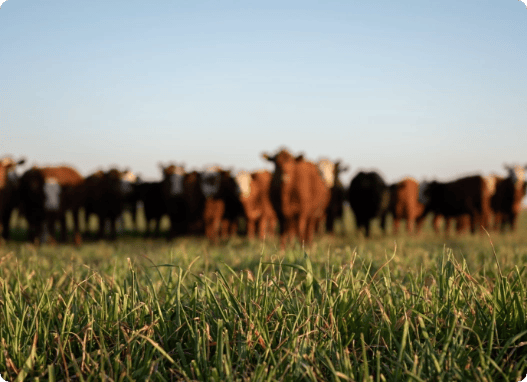 What's different about Dairy-Beef produced with Breedr?
Farmers using Breedr are able to collaborate throughout the supply chain to produce more consistent and efficient beef, reducing wastage at every step of the animal's life and delivering a commercially attractive product with the added value of traceable, lifetime data.
Farmers using our individual animal management tools are already finishing cattle 5 months earlier, saving 1.8T of feed per head and reducing carbon emissions by 17% on average, with our top farmers achieving 28% less carbon.
Our unique solution for Dairy-Beef supply chains

Complete visibility of every animal in the chain:
The strength of our technology is the ease at which partner farmers can collect and share individual animal data throughout their supply chain, delivering full visibility of the flow of livestock from the dairy right through to the finished carcass.

Support the logistics of your beef supply-chain:
Animals (and data) travel direct from farm to farm, avoiding the unnecessary stress and biosecurity risks of collection centres and physical markets that are known to limit animal performance.

Optimise genetics to deliver consistency:
Enhance EBVs, our powerful sire report now gives you Actual Breeding Values (ABVs); showing which sires and genetics have produced the fastest growing offspring across your system.
This knowledge lets you rapidly accelerate your average DLWG, and invest in the genetics that will deliver the consistent product favoured by processors and retailers.

Grow a strong supply-chain of partner farms:
We can help you expand your supply chain through our close relationship with many of the country's most progressive farmers.

Unlock money as your animals grow:
Utilise the capital in your supply chain as they grow with Breedr Cashflow. Whether you want to smooth out your finances to expand with more animals or to grow your business, our quick approval process makes it easy to release the cash you need.

The tools to get more done every day:
Lean supply chains require efficient processes. The easy to use Breedr app frees up farmers' time by taking care of the paperwork and saves hours of effort per week.

The app makes hands-free weighing, medicine recording and tracking movements easy, compatible with the majority of common farm weighing equipment and existing smartphone and tablet devices.

Easily identify areas for improvement:
Animal health and growth rates can be closely monitored and benchmarked at every stage of life, enabling all parties to identify and better manage all the variables that contribute to a high-performing and profitable animal, e.g. sourcing, health management, transitions, feed conversion, housing choices, transportation methods and more.

"We can forecast growth rates and supply across all our farms, finish cattle faster to a higher spec, plus get a better price for the weight-history – it's a game-changer"
Get in touch
Book a call with our experienced livestock team about how we can support your Dairy-Beef supply chain.
Ready to get started?
Join the precision livestock network for forward-thinking farmers
Frequently asked questions
The calf is referred to as dairy beef when there is a cow producing a calf whose primary production is milk, the sire is generally a beef bull either via artificial insemination or traditional bulling.
Why does dairy beef matter?
As the amount of suckler beef being produced is reducing and the number of dairy steer calves coming from the dairy herd is increasing there is an opportunity to create a sustainable and standardised beef output
What's in it for the farmer?
Weaned calves are easily sourced through Breedr allowing you to upscale your production without additional suckler overheads. They finish easily and quickly with the right diet and do well with a season at grass. They can be placed on a guaranteed beef price contract, giving you price protection.
Why does it matter to the consumer?
Dairy beef carcasses are often more uniform which means that the quality is more consistent, giving a greater eating quality. As the calf is a by-product of milk production there is a decreased emission footprint associated with the carcass.