Sourcing reliable contacts to trade with
Chris Sharpe keeps 56 cattle on his 80-acre farm at Steepleton Lodge Farm, West Haddon, Northamptonshire. As a relatively new entrant to farming, finding contacts in the industry with whom he can confidently trade cattle was a challenge. With the nearest slaughter house nearly 70 miles away, haulage was becoming an issue and Chris needed to review his system to work better for him.
Trading based on actual weights and animal history
Mr Sharpe originally downloaded the free Breedr app to connect it with his weighing system. "It works really quickly, it only takes five to 10 seconds to register the weight of the cattle then you can move on, you don't need to try and keep a record because it's uploaded straight away," he says.
Regular weighing is important because Mr Sharpe was finishing all of his stock back then. "At the time I was getting 360kg deadweight at 22 to 26 months and I was transporting them to slaughter myself. Because of the weight restrictions I could only transport three finished animals at a time – it's a good 70-mile round trip to the nearest slaughterhouse," he adds. "By the time I added it up – the time, diesel, depreciation of equipment – I was probably getting £1,100 a head."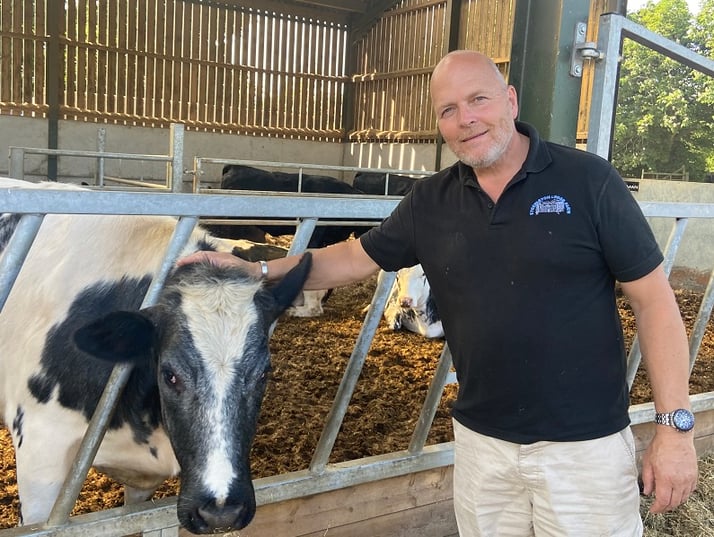 But then Breedr launched its live trading platform – through which farmers can buy and sell cattle based on actual recorded weights. So Mr Sharpe decided to list some of his stock on the app to sell as stores rather than finishing them. "I sold 20 of my animals at 20 months old within two weeks and I got a really good price for them," he says. "I sold them for £985 a head, the buyer arranged the transport and I didn't have to finish them.
"Through Breedr I can buy from known and trusted sources."
Changed farm system to increase profit
Trading cattle in a new way, powered by technology, has enabled Mr Shape to change his system to create a more profitable business.
"So that's what I'm going to do from now on – bring them on to 18 months old and sell half of them to be finished and keep the other half to finish myself."
With a local market for finished beef, Mr Sharpe buys British Blue calves as well as some Hereford crosses and Limousins – but he prefers the Continentals for their meat quality. "We have a glamping site, so we sell it to visitors for BBQ, as well as to local people and restaurants."
The app has also enabled him to form a connection with another farmer – Cheryl Reeves – from whom he now regularly buys calves. And because trades are based on actual weights and include medicine records, it has given him confidence after a bad previous experience. "When I first started the farm I bought some cattle at market and ended up introducing Bovine Viral Diarrhoea (BVD) – it was an expensive and traumatic lesson to learn."