Managing fluctuating cashflow with rising input costs
Ian Davies runs the 65ha upland Garth Fach Farm, Powys. Running predominantly Aberdeen Angus beef cattle and a flock of sheep. Mr Davies buys young cattle weighing about 200kg in the spring, with a target summer growth rate of at least 1.2kg/day. He then sells them at 400-500kg, or finished, off grass and silage in the late autumn. He weighs the cattle every four to six weeks to check they are hitting necessary growth targets, and weights are automatically recorded in the Breedr app via Bluetooth, linked to the electronic ear tag reader.
The farmland is relatively heavy, which makes it ideal for growing grass in the summer, and the fresh daily grazing pushes the cattle on, says Mr Davies. He takes excess grass from within the grazing block as silage, to supplement that which is taken off the main harvest fields. This helps to ensure that the cattle are always grazing young growth.
One challenge which most farms face is fluctuating cashflow, as they typically invest at the start of the season and sell at the end. This carries huge risk, particularly with input costs at record levels. Mr Davies records his livestock details in the Breedr app, giving him access to finance secured on his animals and freeing up cashflow on the farm.
Recording performance to unlock cash
Recording with Breedr has allowed Mr Davies to access a unique £10m finance fund secured on the livestock purchased, rather than fixed assets like many other loans. Using Breedr Cashflow he has recently purchased 80 cattle direct from other farmers through the app's online market platform.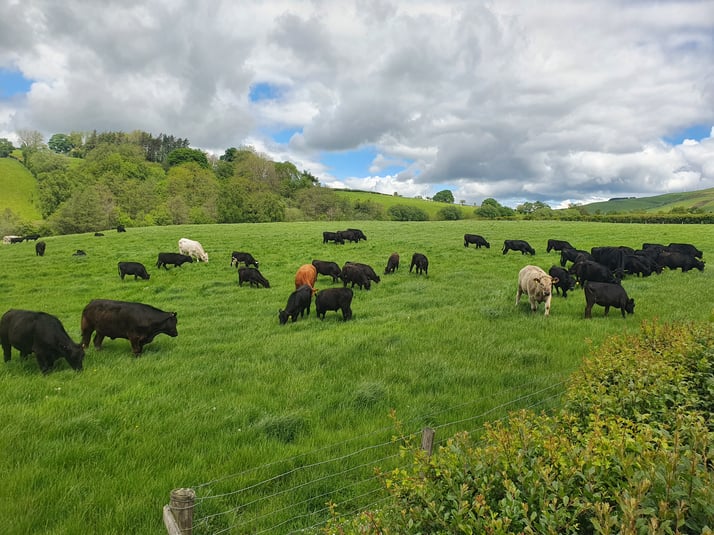 Opportunity to smooth out cashflow mid-season
"Before using the Cashflow system we budgeted to buy only 60 cattle each year because any lump sum tied up would be too great a financial risk," he says. But, knowing he can meet bills mid-season using Cashflow if necessary, means he has the security to double his store cattle numbers to 120 animals.
"It is invaluable in mid-season knowing that it is possible to use cattle to smooth out cashflow while still retaining them on farm,"
Each animal advertised on the platform comes with a photo and its entire back-story, providing a detailed insight into its performance, health status and medicine use. Along with saving time, this provides greater confidence that the animal purchased is healthy and performing well. The data later acts as a strong selling point for potential buyers who can see, at a glance, how well the animal has performed.
"We have enough grass here to feed 120 cattle. It was only the risk that held us back," he says. "So the Breedr Cashflow system has been pivotal in helping us to achieve our potential, increase profit and therefore make the business more resilient."