Farmers in Scotland will have to log all cattle movements with ScotEID from 4 October 2021, potentially causing problems for those used to reporting to the British Cattle Movement Service (BCMS).
But farmers using the free Breedr app can seamlessly switch their data from existing BCMS records and sync new movements with ScotEID.
"We know that some producers are worried about the change to ScotEID, so we have been working with them since summer 2019 to ensure the switchover is as smooth as possible," explains Breedr founder Ian Wheal.
"As soon as ScotEID launches, farmers will be able to use the Breedr app to report movements, births and deaths in the same way that those in England and Wales can with BCMS."
So what do farmers need to do? Firstly, they should register with ScotEID and then add those details into the app on 4 October, or before logging any births, movements or deaths. They can also use the system to record movements between primary and secondary holdings.
The reporting deadlines with ScotEID are different to the BCMS ones: Movements on or off a holding must be reported within 48 hours, dairy calf births within seven days, non-dairy births within 30 days, deaths within seven days and replacement ear tags within 36 hours.
"If you have holdings in both Scotland and England – or are at all concerned about the switchover, then do get in touch and we'll be able to talk you through it," says Mr Wheal.
Lois Black, who farms near Greenock, Glasgow, has been using Breedr since October 2020 to help monitor weight gain in her herd of 70 Simmental, Shorthorn, and Angus cattle, and is now selling them using the app's online marketplace.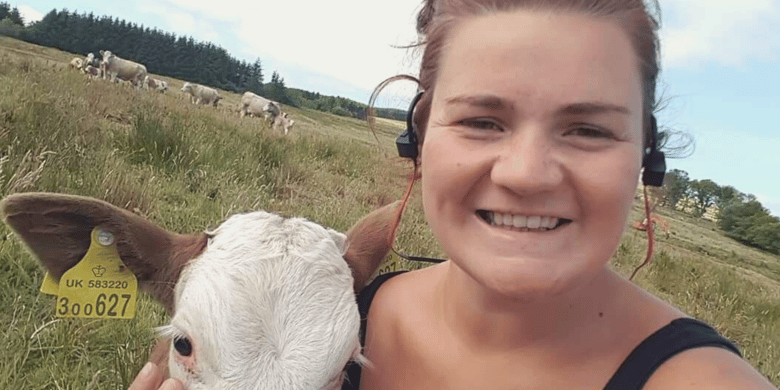 Scottish farmer Lois Black uses Breedr to identify inefficiencies
The system has helped Ms Black identify inefficiencies as she moves towards a more grass-based system. "Recording the cattle weights through the app has highlighted where my weaknesses are," she says.
"I can see graphs about how efficient I am, which showed me that my cattle were actually losing weight over winter, which I didn't know. So now I'm looking at extending the grazing season, trying to get more out of my grass in the growing season, and perhaps getting in a nutritionist."
The app's other features are a big help too, cutting out paperwork and the need to log into multiple platforms. "I have all the information I need at my fingertips," says Ms Black. "I just log in and I can see how many cattle I've got on my farm at any one time, who the dam and sire are for each, vet and medicine history and weight. It's just so useful and easy to use."