Breedr partners with Oxford Farming Conference in #OFC20 ticket give-away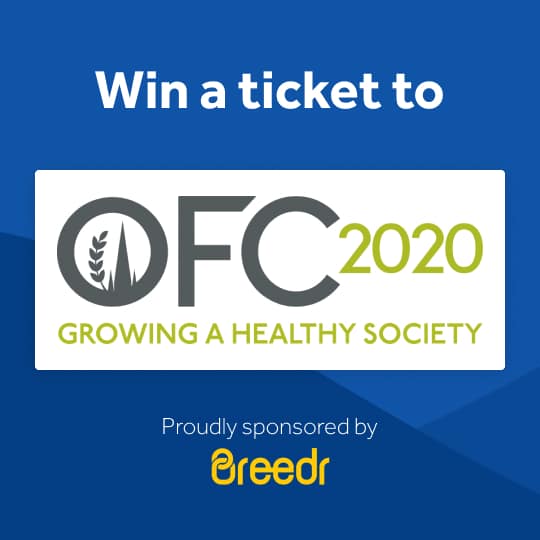 The Oxford Farming Conference 2020 theme, 'Growing a Health Society', is all about strengthening relationships between farmers, the land and the wider population. This is why, with Breedr's focus on linking up the whole supply chain, we are partnering with the OFC to offer farmers the chance to win a free Oxford Farming Conference ticket worth £325.
The Oxford Farming Conference (OFC) is an annual event for UK farmers, agri-businesses and influencers, next taking place at Oxford University from Tuesday 7 to Thursday 9 January, 2020. It is one of the key events in the farming diary usually involving the latest political announcements, big ideas and attracting mass media coverage.
Breedr's founder, Ian Wheal, comments: "Agriculture may have been unfairly singled out for criticism during the climate change debate but, by improving their use of data, livestock farmers can increase their productivity, profitability and cut greenhouse gas emissions.
"We will be discussing this on our stand at OFC and giving farmers the chance to see how easy Breedr is to use.
"We are delighted to be able to offer a free ticket to the conference, as part of our partnership with OFC 2020."
The Breedr precision livestock network aims to help farmers to grow better animals, make more profit and trade smarter online. It works with existing farm management systems and medicine books, can be linked to regulatory systems, such as BCMS. It also allows direct import of data captured on farm from bolus, weigh heads and scanners.
Breedr will be exhibiting at the OFC 2020, demoing the platform and offering farmers the chance to join get involved in trialling the tool. A number of trials are already underway aceross the UK, Australia and the USA.
Find out more and enter the Breedr – Oxford Farming Conference ticket competition here
Follow @_breedr for live #OFC20 updates