Everything you need to know about Countryside Stewardship grants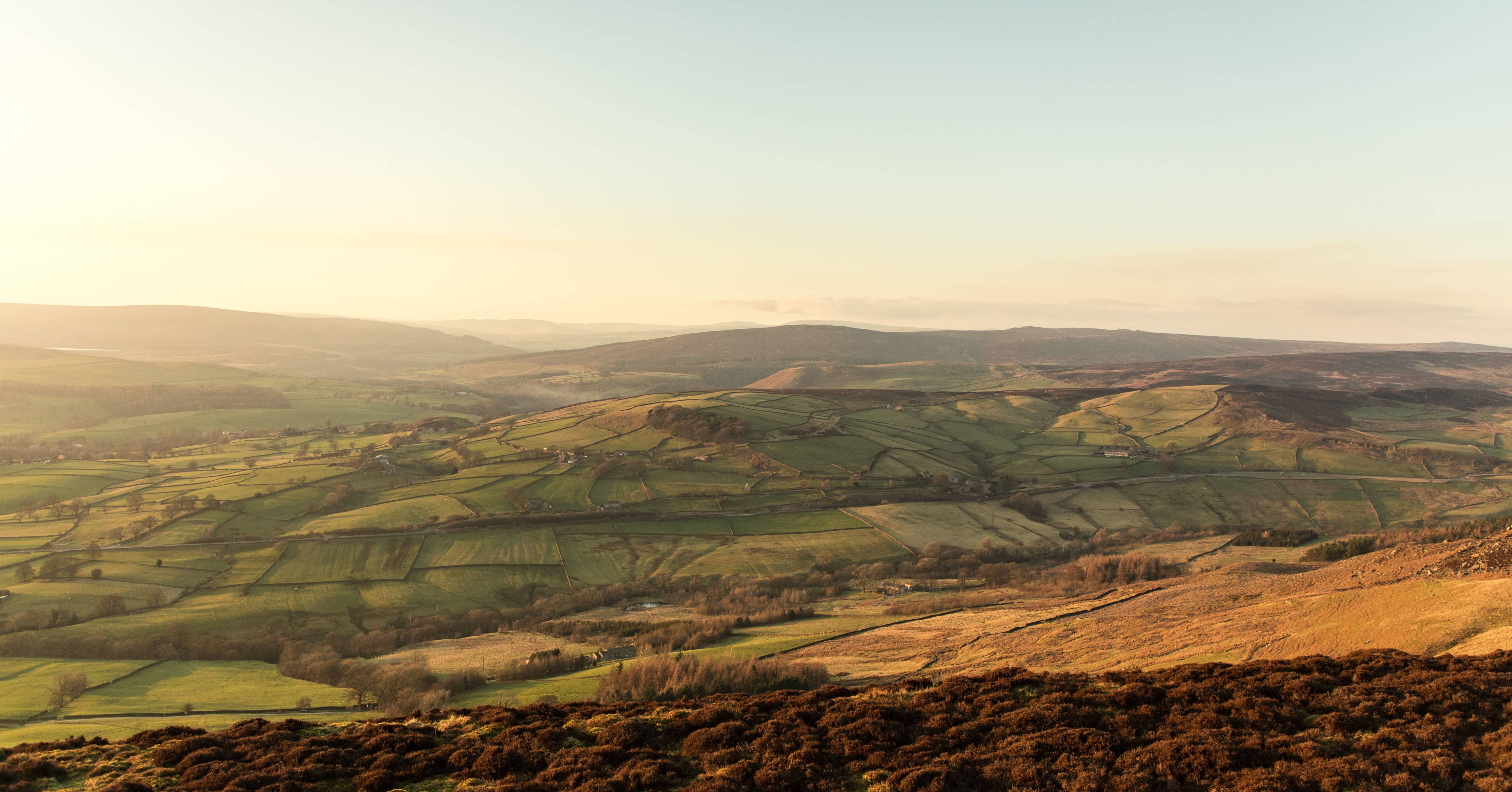 As a farmer, you'll have many business goals you're looking to achieve. Whether it's sustainability, profitability, reaching net-zero or simply enhancing the way your farm works, there are schemes available to help you along the way.
In this article, we're looking at the common questions surrounding Countryside Stewardship grants.
What are Countryside Stewardship grants?
Countryside Stewardship (CS) provides financial aid and incentives for farmers, woodland owners, foresters and land managers to maintain and improve the environment.
It's a government-led scheme that issues funding for environmental efforts such as maintaining and regenerating wildlife habitats, deploying flood risk management and reducing water pollution.
The scheme is only available in England and has three tiers — higher tier, mid-tier and wildlife offers, and capital grants. Keep reading to find out more about the different tiers.
Who can apply for Countryside Stewardship?
Any farmers, woodland owners, foresters and land managers can apply for Countryside Stewardship, providing the land is eligible.
However, it's worth noting that the scheme is competitive, so depending on which tier you choose, your application will be scored against other applications. Applications are assessed and selected based on which will offer the most environmental benefits.
How do they work?
If you're considering applying for Countryside Stewardship, this flowchart shows the steps you'll need to take.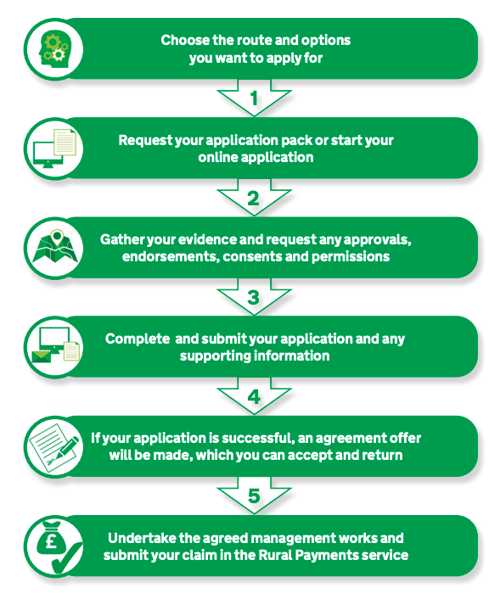 Source: Department for Environment, Food & Rural Affairs
What are the different tiers of Countryside Stewardship?
Higher tier
Higher tier agreements and grants are more complex, tailored to an individual site, require greater management and usually last longer.
The grants are competitive and available as multi-year management grants, lasting up to five, 10 or 20 years. There are also capital items for specific types of work, which must be completed within two years.
Although this isn't an exhaustive list, the grants support:
Varied habitats and environments, such as grasslands, meadows, coastal land, ponds, woodland, hedges and more.
Protecting vulnerable and threatened species.
Managing and maintaining dry-stone walls, fencing and gates.
Improving water quality and managing flood risk.
Increasing organic certification.
Improving air quality.
Enhancing education.
Mid-tier
Mid-tier grants are multi-year agreements that offer environmental benefits in the wider countryside. They're competitive and you can apply for a combination of grants most relevant to your business.
There are two options available. Management options as multi-year grants, where payments are made every year for five years and capital items, where there's a range of two-year grants for specific capital works.
The grants can be used to:
Improve land for the benefit of local wildlife.
Support and rebuild priority habitats.
Manage the risk of flooding.
Manage and maintain landscape features.
Prevent and manage air and water pollution.
Improving livestock drinking and feeding sources.
Improvement of farmland and buildings.
Wildlife offers
Wildlife offers are the simplest and quickest way to access Countryside Stewardship funding. They're non-competitive and designed to provide a sufficient level of environmental benefits.
The wildlife offers have been created to help you provide:
Sources of nectar and pollen for pollinators.
Winter food for birds.
Improved habitats.
The environments needed for the successful breeding of wildlife.
Capital grants
There are several capital grants available, both competitive and non-competitive.
Woodland creation - Short-term, competitive grants for creating new woodland areas.
Hedgerows and boundaries - Short-term, competitive grants that help revive and maintain boundaries, bringing environmental benefits. These grants can be combined with wildlife offers.
Woodland management plans - Short-term, non-competitive grants that help with the planning and management of woodland.
Woodland tree health -

Short-term, non-competitive grants that enable the enhancement and restoration of woodland.
What are the benefits of Countryside Stewardship?
The Countryside Stewardship programme was created with one core purpose – to enhance and improve England's natural environment and landscapes. Although there are many key environmental and sustainability benefits of Countryside Stewardship, there's a statement of priorities that covers:
Restoring, improving and providing for wildlife and nature.
Providing pollen and nectar sources, habitats and more for wild pollinators.
Enhancing and improving water sources, as well as reducing flooding risks.
Funding, maintaining and creating woodland.
Are Countryside Stewardship grants taxable?
CS grants are classed as revenue, so will be taxable if your farm makes a profit. However, capital grants can be written off.
Is Countryside Stewardship being replaced?
While Countryside Stewardship will continue in 2023 and 2024, by 2025, three new schemes will have been introduced that reward the delivery of environmental benefits and aim to improve the environment further.
Farmers who enter a Countryside Stewardship now will have an advantage when the new environmental land management schemes are rolled out in 2024. Those in an existing agreement can leave and join the new scheme.
What are environmental land management schemes?
The new environmental land management schemes are part of the Agricultural Transition Plan and will be rolled out by 2025. They're made up of three individual schemes focused on improving the sustainability of farming, forestry and land management.
Enhance your farm's profitability
Farming is a business, meaning profitability is at the core of most things you do. Capitalising on grants and government schemes can help you achieve environmental and sustainable targets while remaining profitable.
To learn more about profitability, future trends and current topics, head to our profitability page to learn more.