Weighing Made Easy webinar – FAQ & Video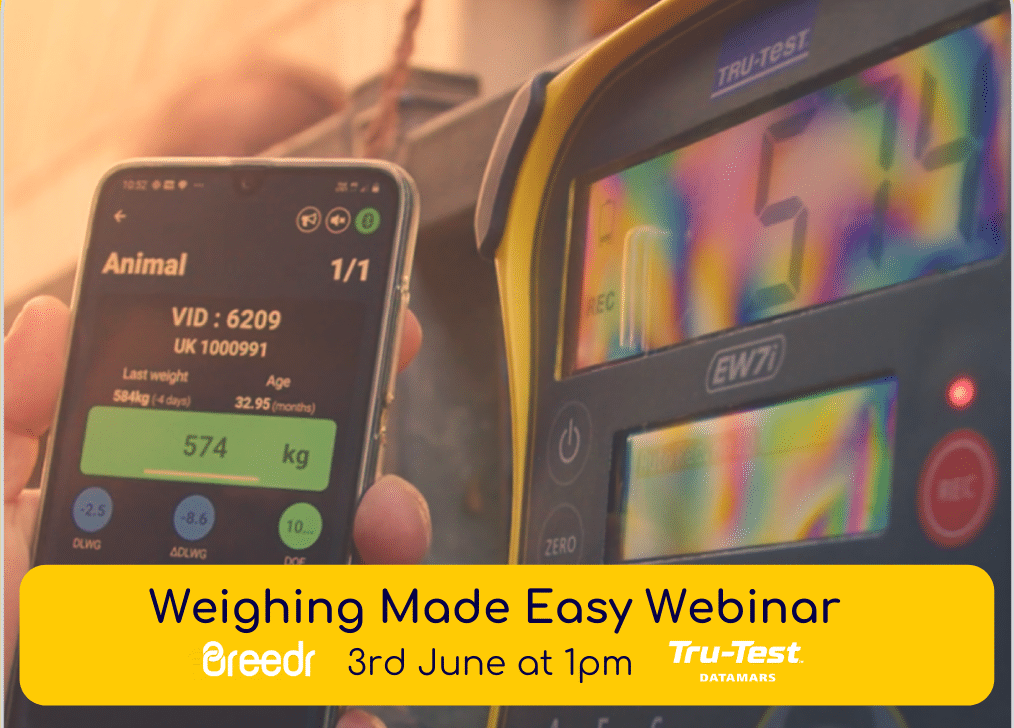 Recording
FAQ
We didn't have time to answer all your questions and we've included several that come up regularly.
Why is Breedr free, you're not a charity?
We made Breedr's Precision Livestock App completely free to every British Beef farmer because we believe that keeping your records up to date shouldn't be expensive or time consuming. You can manage your animals, record weights using Crush Mode, track movements and medicines in our android and iOS app for free.
In Breedr there are opportunities to market livestock with up-to-date weight information for the best price, and if you choose to commit to these trades we take a small commission of 1-3% depending on contract.
You can watch Ian Wheal founder of Breedr talk about his vision and why we made the app free – click here
Is Breedr just for cows?
At the moment we just support beef cattle, we know how important it is to have all your data in one place and we're working on getting sheep supported in the app. Check back later in the year if you're a sheep farmer!
Does your app only link with Tru-Test equipment?
Currently the app only works with Tru-Test weigh heads and EID sticks but we are working on other connections. If you have other systems and you want to find out if we're working on them email us at support@Breedr.co
Why doesn't the XRP2 and the XR5000 work on iOS?
Tru-Test doesn't currently support iOS functionality with these two products. They tell us they are working on it and we'll support them when it becomes available.
Can I manage my treatments/medicines in Breedr?
Yes! Try our medicine cabinet feature; details here
Can I log on multiple animals at the same time?
Yes you can do a batch dosing either with a filtered animal list, in a group or field page as well.
Can multiple users use the medicine cabinet?
Yes you have one central medicine cabinet for each farm and they update as each user uses them.
Are withdrawals in there?
Yes, if they are in the NOAH database we'll take the withdrawal across to your cabinet but we also recommend reading the booklet and checking the withdrawal is correct for the usage.
Can I use Breedr with other software?
You can use Breedr with your existing software or migrate across. We pull your cattle data from BCMS but you do not have to send movements/births through our system. This allows you to get all the benefits of easy weighing and medicine recording without moving away from a system you are used to.
Can I transfer my data across from another system?
We built Breedr to easily incorporate data and information from lots of sources. Our customer support team are on hand to make it easy for you to transfer over, just get in touch with them once you've created your account and they will help set you up.
What processors are you working with, are there any near me?
We are working with several UK based processors and retailers, these are spread across the country. For those interested in trading in Breedr contact mark@Breedr.co
Can I trade live cattle such as stores or calves through Breedr?
If you have an existing integrated supply chain we can help you support this, we are working on the ability for you to trade live cattle with a data pedigree to get the best price with other Breedr farmers. For those interested in trading in Breedr contact mark@Breedr.co
Are you doing another webinar?
We do one every week on Thursday at 6:30pm, why don't you join us and find out more about the benefits for Breedr on your farm
How can I get started with Breedr?
You can sign up today for FREE at www.breedr.co and our customer support team will be in touch with the next steps.